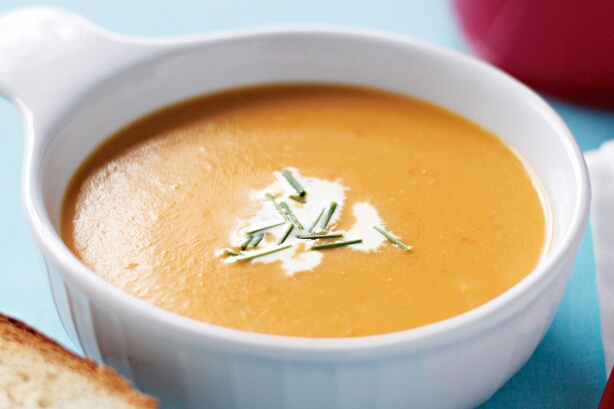 Spiced Pumpkin Soup
An autumn classic…and delicious! The coconut milk adds richness while making the soup okay vegan diets.
INGREDIENTS:
2 tbs olive oil
2 onions, minced
2 cloves garlic, minced
1 one-inch-piece ginger root, peeled and minced
2 ½ pound pumpkin or butternut squash, peeled, seeded and cut into 1″ cubes
1 15 oz can coconut milk, well shaken
Pinch Serrano chile powder or cayenne
Plain yogurt (garnish/optional)
Pepitas – toasted squash seeds (garnish/optional)
1) In a large pot, heat the olive oil and sauté the onions, garlic, and ginger lightly.
2) Put the peeled and cubed squash in the pot and add just enough water to cover. Cook on medium high heat for 25-30 minutes — or until squash can be easily mashed against the side of the pot with a spoon. Cool for 15-20 minutes.
3) Puree the soup. If you are using an immersion blender, add coconut milk and chile before pureeing. If you are working in batches using an electric blender, add a bit of the coconut milk and chile in each batch.
4) Return the pureed soup to the pot and gently reheat. Season to taste with sea salt.
Serve…Garnish with yogurt and pepitas (optional)
Enjoy!